Clean and Vegan skincare
Muldream aims to offer the easiest urban skin healing for exhausted skin based on our 4S principles.
1. Safe and Pure
Plant based formula,
Worry- free ingredients: Chemical free, Paraben free, Alcohol free.
Artificial preservatives free, Artificial color free.
Mineral oil free, Silicone free, PEG/PPG free
2. Soothing and Calming
A must-have for city dwellers and sensitive skin: Enriched with a unique soothing blend, keeping skin healthy and protected against harmful radicals that can cause damage to skin cells and accelerate aging.
3. Strong and Active
All-in-one skin repair Ultra-Nourishing: Replenish skin'swith mild formulas that superiorly improve; anti-aging, skin barrier, fade dark spots, and correct UV damage.
4. Skin balacing
We are focused on providing healing solutions to sensitive skin. Muldream skincare is designed to soothe sensitive skin and protect from the harmful polluted environment.
CPNP, VEGAN, GMP Certified
All Muldream products are cruelty-free & vegan (England Vegan society), thus causing no harm to animals in any level of process whatsoever. We do not use any problematic ingredients that may irritate your skin.
Vegan Green Mild Product Line
Vegan green mild intense serum/cream/lotion/mask/AHA-PHA ampoule
Vegan green mild serum mist
Vegan green mild vita ampoule/flower cell mask
Vegan green mild hyaluron ampoule/mask
Vegan green mild fresh serum/cream/cica ampoule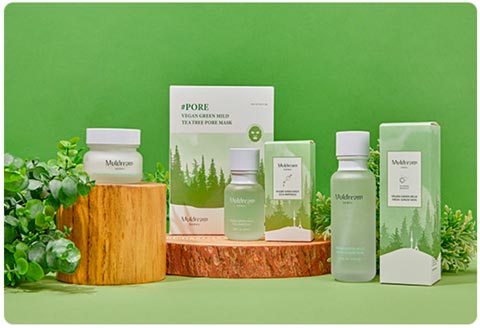 Ingredients
Muldream products feature safe and natural plants derived [Vegan] ingredients. Some of the key ingredients are listed below:
Portulaca Oleracea
Extract Soothing, Hydrating
Betula Platyphylla Japonica Bark Extract
Skin vitality, Soothing
Madecassoside
Anti-Aging, Soothing
Beta-Glucan
Hydrating, Anti-Aging
Sodium Hyaluronate
Hydrating, Skin firming
CeramideNP
Repairing Skin barrier, Fewer signs of sensitivity
Vitamin C derivatives
Revitalized complexion, Brightening
Adenosine
Anti-Aging, Improving skin smoothness