Skincare solution for all types of skin
SKINSIX is a personalized skincare brand which encompasses all six different skin types: dry, oily, normal, aging, sensitive, and mixed.
Scientific Beauty
K-beauty has grown at a strong and fast rate, becoming noticed and loved worldwide, and developed into a leader in the beauty market. However, SKINSIX realizes the absence of products appropriate for different races and skin types and has set a vision to provide beauty products suitable for various skin types.
Global Beauty
For beautiful skin, it is vital to take care of both the epidermis but also the minute dermis. SKINSIX conducts product R&D for the perfect care of the epidermis and the deepest of dermal layers.
SkinSix product line

Canada Glacier Water Luminous Mask
Pure glacial water from the top of the mountain in the iceland of Vancouver Island, Canada delivers refreshing, energizing moisture to the skin. Ultra-precisely filtered 100% pure ice water penetrates deep into the skin to a smoothe and moist skin texture.
Cellulose sheet mask stores and delivers to skin plenty of moisture
Non-sticky, soft, transparent essence
Premium glacial water with the highest TDS levels
All the ingredients are EWG Green Grade
US FDA & Canadian CFIA, American Hygiene Association and
Safe ingredients that have passed all Japanese hygiene tests!
Non-irritating mask, dermatology tested
Contains honey, quadruple hyaluronic acid, panthenol, 7 organic extracts: Celery, Cabbage, Brown Rice, Tomato, Bok choy, Carrot, Broccoli.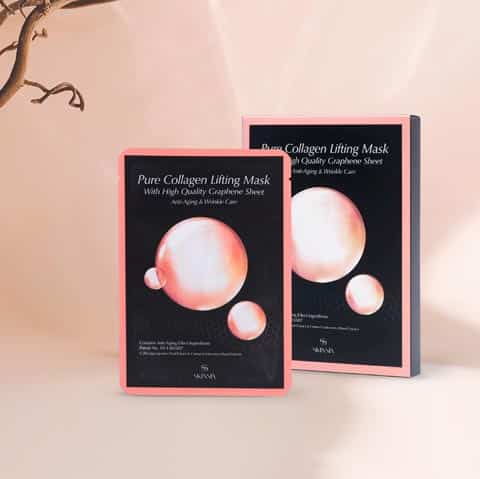 Pure Collagen Lifting Mask
This mask has been certified as a functional skin anti-aging cosmetic product.
Innovative Graphene sheet effectively absorbs skin contaminations and makeup residue making it appear clean and shiny. Graphene emits far-infrared rays which reduce skin stress and help to boost blood circulation in order to maintain natural skin balance. Graphene sheet is a special new material that maximizes the essence absorbtion using micro biocurrents.
Callicarpa Japonica Fruit and Cornus Controversa Extracts – patented anti-aging ingredients contained in the essence eliminate free radicals – the main cause of skin aging. They also create a skin protection barrier and provide excellent anti-wrinkle effect.
Original Graphene sheet mask
Anti aging essence improves skin elasticity
Patented anti aging Callicarpa Japonica Fruit Extract and Cornus Controversa Extract
Non-irritating mask, dermatology tested
All the ingredients are EWG Green Grade
US FDA & Canadian CFIA, American Hygiene Association and
Contains Hydrolized COllagen, Adenosine, Copper Tripeptide-1, Cypress water, 4 types of Hyaluronic acids.