Taking care of our skin during the night is as important as taking care of the skin during the day. To ensure your skin receives the best treatment it is necessary to care for your skin during night time as well.
Why is skin care so important?
Caring for your skin is of high importance especially for those who are concerned about their physical aspect. Proper skin care can help improve the skins appearance as well as help maintain the skin in a good condition for longer.
Time, external factors, genetics, are all factors which have effects over our skin and aid the aging process. Everyone wishes to look youthful for as long as possible and healthy looking skin can most certainly help achieve that.
Soft, smooth and healthy looking skin always looks good and contributes to a youthful appearance this is why so many women are turning towards chemical peels and other skin renewal procedures.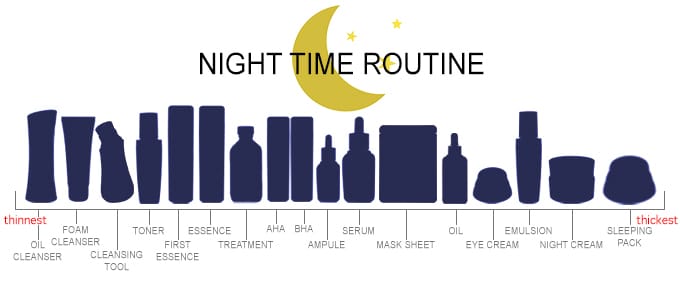 The best way to prevent skin damage and premature skin aging is by maintaining a proper skin care routine. Proper skin care routine doesn't only refer to day care it also refers to night care. It seems kind of weird taking care of the skin during the night but it is actually a very important step, especially after the age of 25.
During the day, our skin is subjected to so many damaging factors, sun damage, wind damage, temperature, pollution, factors which can leave their print over our skin.
3 Important steps to follow
In order to allow your skin to breath and regenerate during the night it is necessary to:
Cleanse your face every evening before you go to bed. It is necessary to allow your face a little bit of breathing time. Remove any traces of make-up off your face using a make-up remover and wash your face using a mild cleanser.
Use a toner to remove all traces or remaining dirt and make-up remover which can still be found on the face after washing. You might be surprised about how well the toner will remove the remaining traces of dirt.
Apply a moisturizing night cream on your complexion to allow the skin to be deeply moisturized so the skin can regain it's youthful appearance and elasticity. There are so many products available on the market destined to benefit the skin over night in order to prevent skin aging.
Taking care of your skin might sound like a 24 hour job but it actually isn't since you only care for your skin twice a day, once in the morning and once in the evening. Once you make it a routine and make your pampering time a habit you will find it very easy and relaxing.
Pony's Nighttime Skin Care Routine
Care for your skin if you want your skin to look gorgeous and radiant for many years to come.